Elegant Wedding Day at the Chicago Cultural Center
Wedding day, oh happy day! Writing this entry in the month we celebrate love, I am reminded of my love affair with wedding planning. 15 years. Over 100 couples. Over 100 unique wedding days. I loved, I compromised, I cried (all happy tears). I learned, I listened, I was a guide and a leader, I was mentored. It was an amazing journey that I am incredibly grateful for. In early July 2019, my journey in planning weddings ended. It was all on my terms, and it was time to move on in my career.
That said, I wanted to honor my final wedding as a planner with a blog post. A closing chapter if you will. I wanted to honor the most unbelievable couple, Adrienne & Kolin. I wanted to honor the incredible team of event professionals that made the wedding day so special. From the very beginning, Adrienne, Kolin, and I bonded over our love of great food and travel. In fact, most of our monthly planning meetings took place at a different restaurant. We would tackle our to-do list while noshing on some food and discussing their latest travels. (Ah, restaurants and traveling…two things I miss so much during this pandemic!)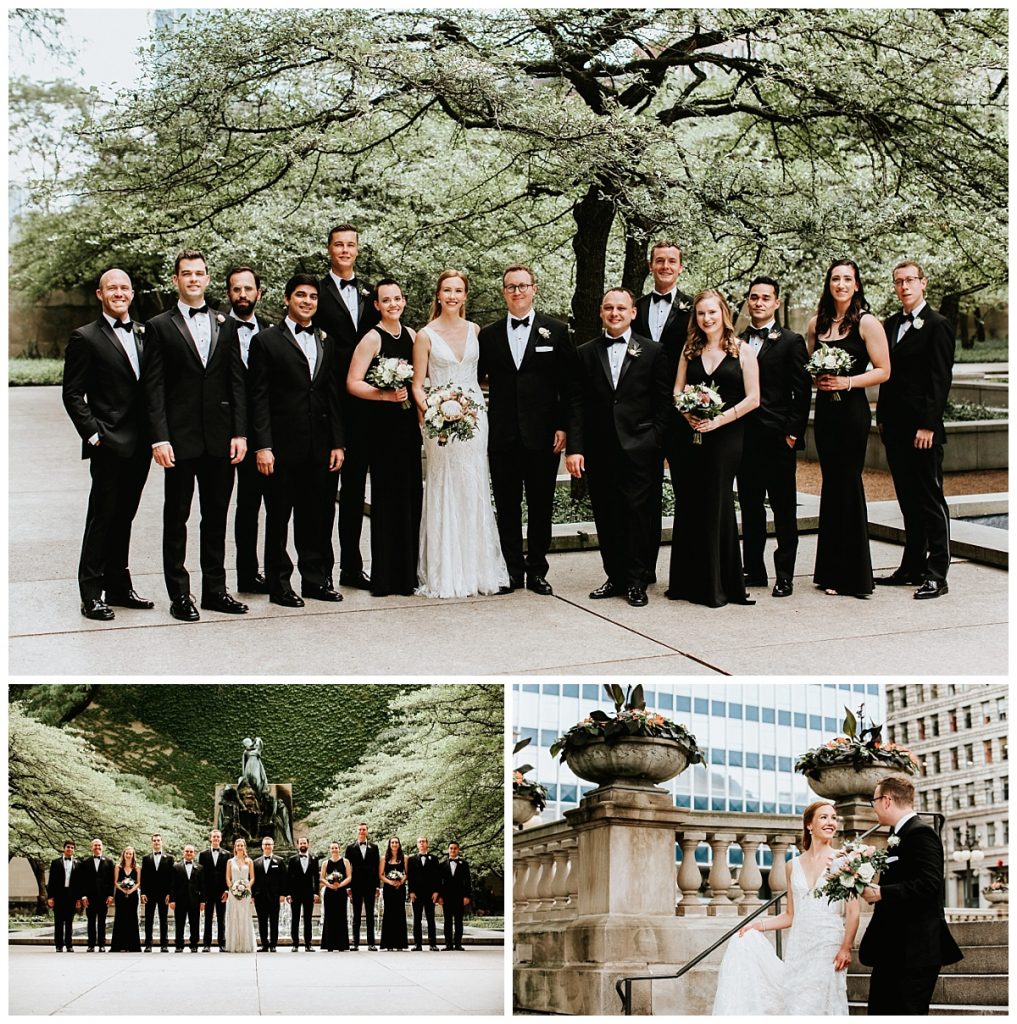 The Wedding Planning Process
My process in working with couples to plan their wedding had not changed much over the years; however, in the last year of planning, I was utilizing AislePlanner. This platform provided cohesive and immediate access to all timelines, checklists, and notes for everyone involved in the wedding. I cannot say enough great things about it! In one of our first meetings, I walked Adrienne & Kolin through the platform so that they could see the features. Then we discussed our meeting schedule for the coming 10 months. Knowing that couples have busy lives outside of planning their wedding, my role was to be efficient with their time. I would guide them towards the most immediate decisions that needed to be made in each stage of planning. I also accounted for "time off" when they needed to focus on work, school, or other family obligations.
The Week of the Wedding
Well, the months flew by with Adrienne & Kolin (and their mothers, who also joined us in specific meetings). Soon we were weeks away from their wedding day. We checked in every week with a phone call or in-person meeting to go through all of the final details. The week of the wedding arrived, and I met up with Adrienne & Kolin that Tuesday evening to review last-minute guest RSVP's and collect the list of personal items they wanted to be included on the wedding day. I always recommended that this pick-up meeting occur before guests began arriving in Chicago. This allowed the couple to be in the moment with their friends and family.

Adrienne & Kolin checked into their separate hotels the day before the wedding and again, I provided a packing list for them. Planners are all about lists!! In the excitement of the day, it can be easy to forget something as simple as socks or a clutch. Because their wedding was on July 5th, we were unable to have a ceremony rehearsal the day before at the Chicago Cultural Center, but that was okay. It happens quite often in Chicago. In these instances, we planned for an early arrival at the venue so that we could do a quick walkthrough of the ceremony and grab some formal portraits before guests began arriving.
The Wedding Day – Before the Ceremony
Adrienne & Kolin spent the morning of their wedding surrounded by their best women and men – hair and make-up for the ladies, laughter and talking for the gentlemen, and scheduled food breaks to keep them nourished for the day of celebration. As a planner, I always loved the different emotions and energy that happens throughout a wedding day. When my team and I arrived at the hotels after lunch that day, there was a feeling of expectation. Those feelings of calm, nervousness, and some giddy excitement. We kept them on track for getting ready and were soon out the door, with some darkening skies, for Adrienne & Kolin's First Look in the South Gardens at the Art Institute of Chicago.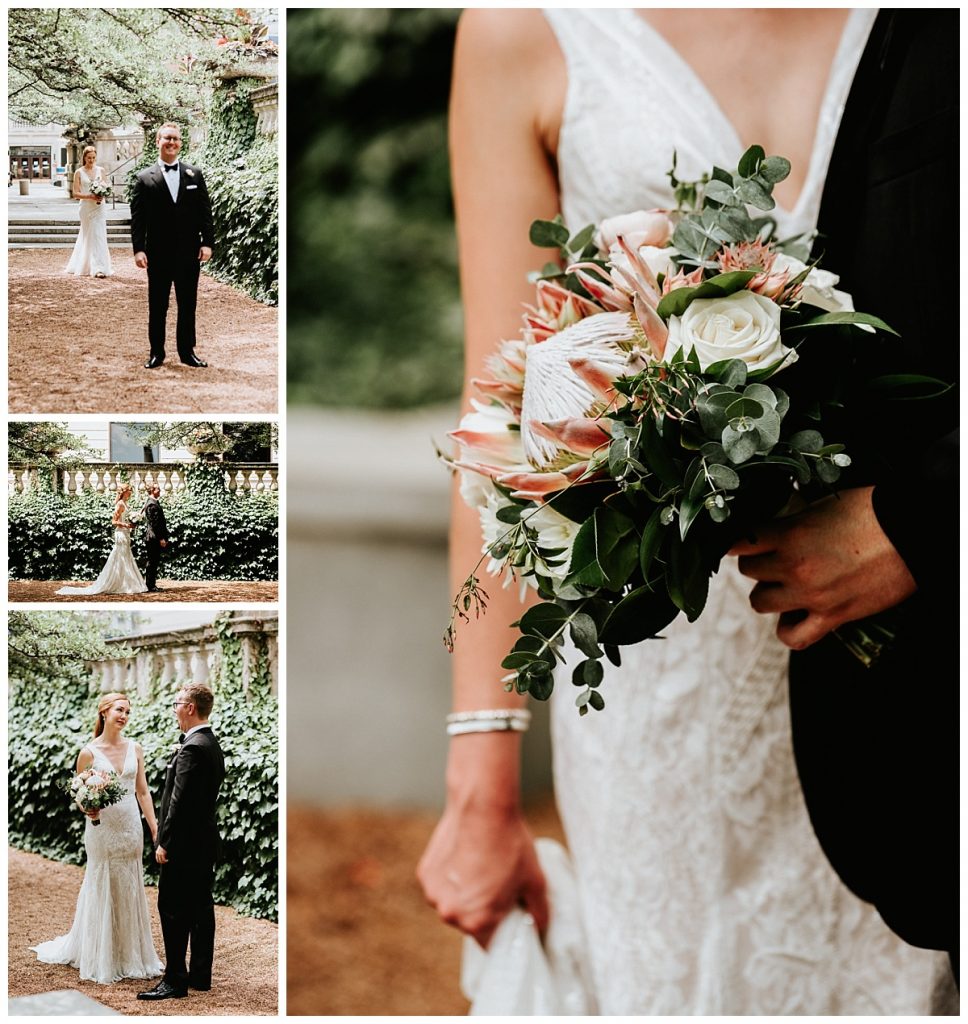 You can't tell in the photos just how warm a day this was, but Adrienne, Kolin, their wedding party, and their parents were completely cool and calm as Todd directed them for photos around the Gardens. As luck would have it, when we boarded the bus to go grab some photos at The Wrigley Building, the skies opened up. It was just a short summer downpour, thank goodness, so we did not need to use the umbrellas I had packed. Again, a planner always prepares for the unexpected!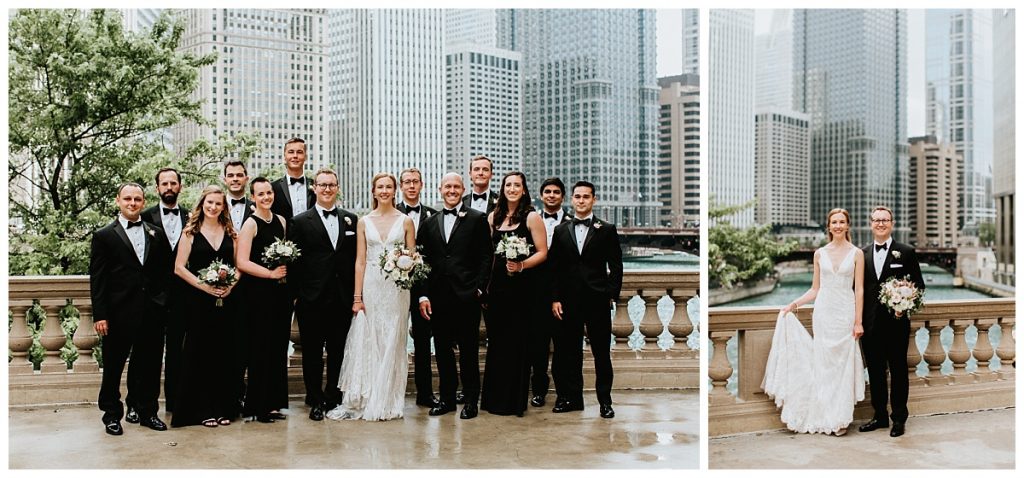 We arrived at the Chicago Cultural Center around 4:15pm and saw the beautiful transformation from Nadine and her team at Fragrant Design! It was perfect. It was elegant. Adrienne & Kolin were able to take some formal photos with family, and my team and I were able to walk everyone through their role in the ceremony. Guests began arriving at 5:00pm, so we hid Adrienne, Kolin, and their parents and wedding party to allow us more efficiencies in getting guests seated. This is another moment in the wedding day when you can just feel the emotions when you walk into a room – love, excitement, and celebration.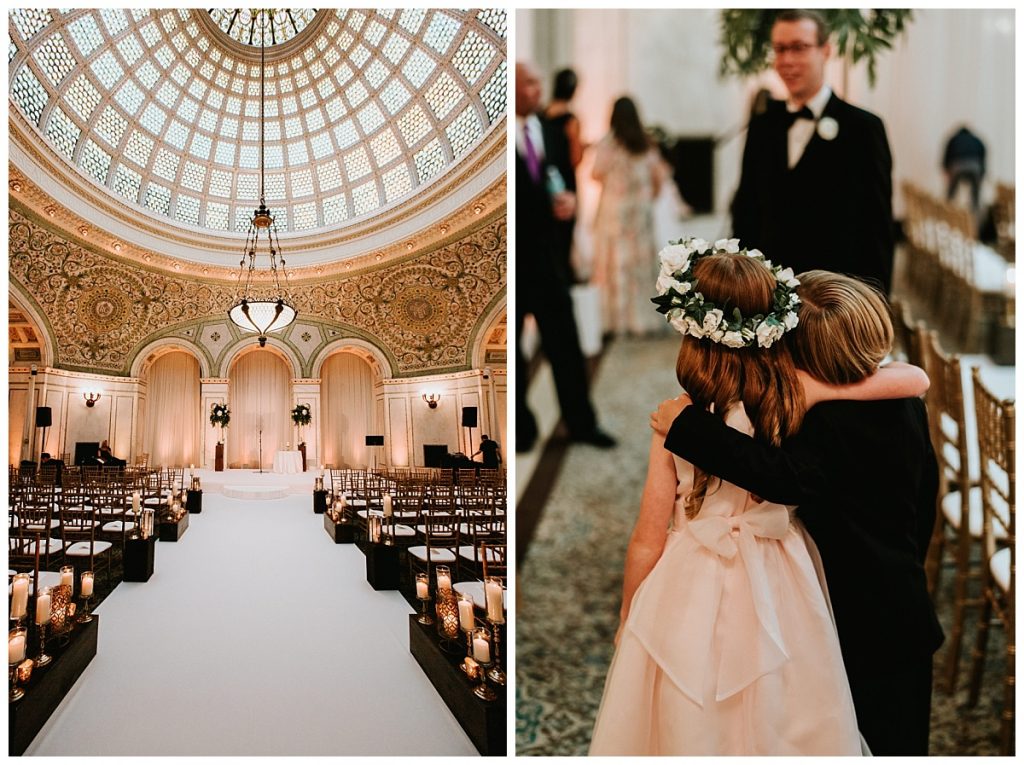 The Wedding Day – Ceremony & Reception
The ceremony, performed by Kolin's brother, was one of the most beautiful moments of the day. While Adrienne & Kolin had been a couple for years, their ceremony was the first chapter in their marriage and it was everything they had imagined it to be.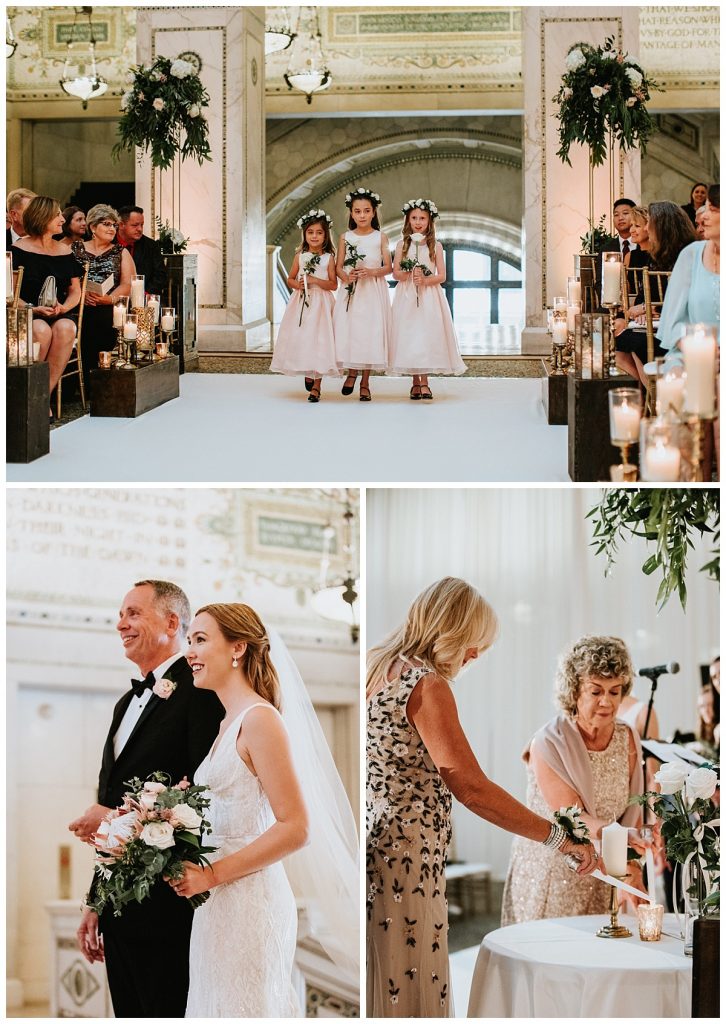 After the ceremony, the string quartet led guests to the GAR Rotunda for cocktail hour. They were greeted with His & Hers Signature Cocktails – aptly named for the 4th of July weekend – The Smoke and The Sparkler. Julie and the team at Entertaining Company had all of their best creations on display. Guests loved the mini spicy chicken taco paired with a mini margarita and the crispy buttermilk fried chicken and waffle cone. Yum!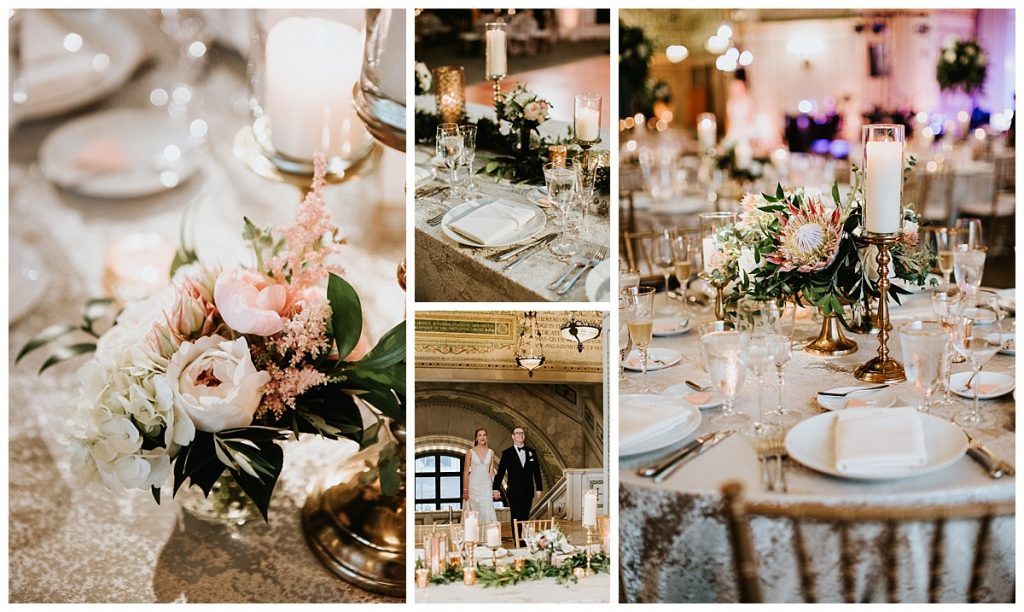 While guests congratulated Adrienne & Kolin, the event teams transformed Preston Bradley Hall into the reception. Nadine brought Adrienne & Kolin's elegant vision to life with overflowing greenery, luscious blooms, and sparkling candlelight. Yet another moment on the wedding day when you can feel every emotion. All of the months of planning and all of the work and effort on the day of, transforms an ordinary space into someplace magical for one of life's greatest celebrations. Seeing Adrienne & Kolin's reactions to the room gave me all the feels.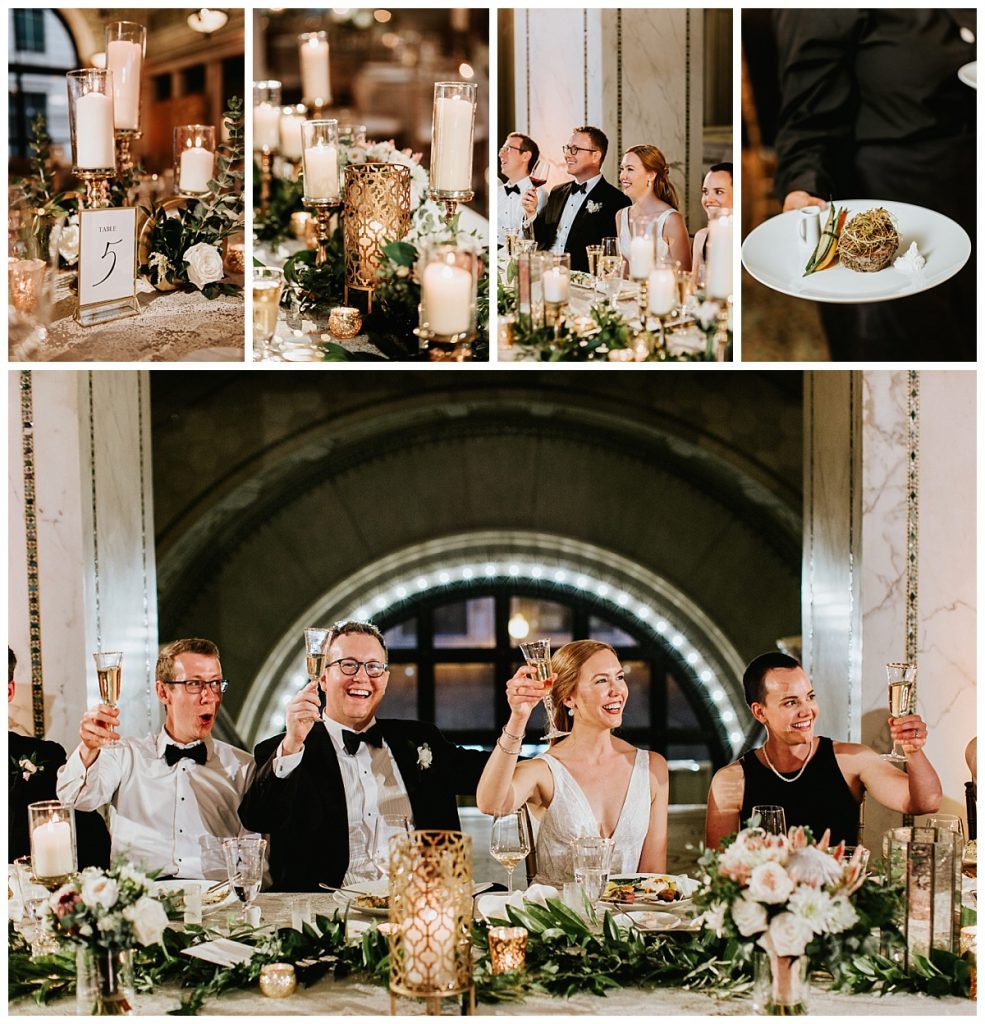 Guests were brought back into Preston Bradley Hall for the reception. Adrienne, Kolin, and their parents provided a welcome and thank you to everyone attending. It was a great reminder that two families who had known each other for some time were now united through marriage. Adrienne & Kolin's mothers provided a blessing and the wedding feast began. It was important to Adrienne & Kolin that their celebration be an elegant one, but also one with some unexpected elements. Their menu provided just that touch of fun & practicality and showed off their love of food.  One of my favorite items were the passed milkshakes when the sweets station opened – chocolate, oreo, and blueberry pie, oh my!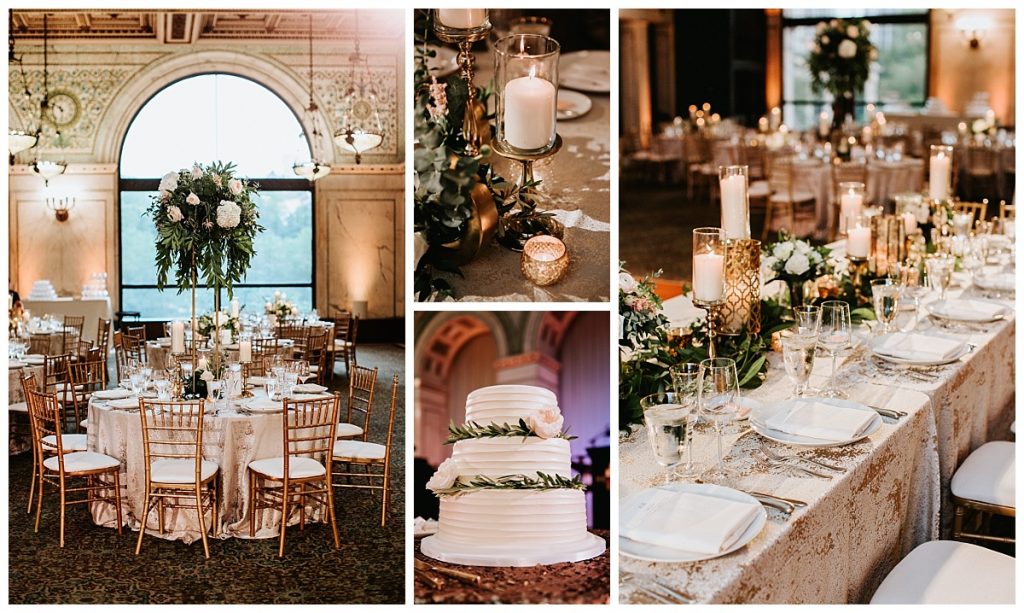 Gratitude
The magical evening ended with a packed dance floor celebrating these two amazing individuals who found love in each other. Thank you, Adrienne & Kolin, for allowing me to be part of your wedding journey. I continue to wish you bountiful blessings, safe travels, great food, and gatherings with family and friends in the many years of your marriage!
Photographer: Todd James Photography
Videographer: HWu Studios
Floral/Décor: Fragrant Design
Caterer: Entertaining Company
Venue: Chicago Cultural Center
Musicians: Velocity
Stationery: Arabesque
Beauty: Pin Me Up
Transportation: VIP Valet
Retired Planner: Nicole Zenner, CSEP